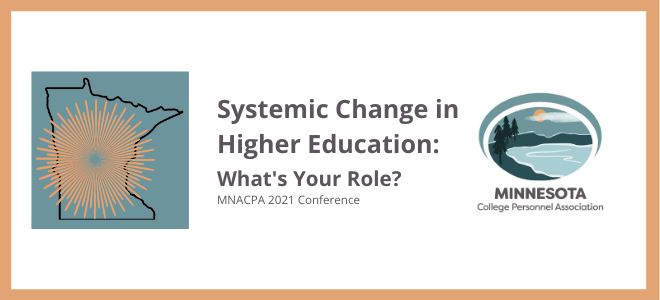 2021 MNACPA Fall Conference – Systemic Change in Higher Education: What's Your Role?
The 2021 MN Chapter of ACPA (MNACPA) Conference will be held Friday, October 22 virtually through Zoom. This year's theme is "Systemic Change in Higher Education: What's Your Role?" 
The COVID-19 pandemic and racial injustices, right here in Minnesota, moved our higher education environment to a critical crossroads prioritizing action-oriented dialogue and reflection, where systems can no longer remain unchecked. This year's conference serves as a platform to initiate the conversation of systemic change in higher education and calls upon the roles we all play in addressing systemic change, no matter your position.
The 2021 MNACPA Conference will bring together a broad and diverse community of educators to critically examine the past and look resolutely forward for change. We look forward to gathering as a community to share ideas, address common challenges, and network with friends and colleagues in Minnesota.
We invite Minnesota higher education professionals and graduate students to submit program proposals to present this year's conference. The program proposal submission deadline is Sunday, Sept 19th at 11:59 p.m. Contact [email protected] for questions.
When: October 22, 2021
Where: Zoom
Early Bird Registration: August 3-September 21
Registration Closes: October 15 (EXTENDED DEADLINE)
Registration Cost: Members
Early Bird – Graduate Student ($40)
Early Bird – Faculty/Staff ($50)
Regular – Graduate Student ($50)
Regular – Faculty/Staff ($60)
Registration Cost: Non-Members
Early Bird – Graduate Student ($50)
Early Bird – Faculty/Staff ($60)
Regular – Graduate Student ($60)
Regular – Faculty/Staff ($70)
Native/Indigenous Attendees
Complimentary
Keynote Speaker: Brittany M. Williams, PhD
Brittany M. Williams, Ph.D., is an Assistant Professor of Higher Education Administration at St. Cloud State University. Originally from Southwest Atlanta, Georgia, Williams obtained her Ph.D. in College Student Affairs Administration from the University of Georgia and holds her bachelor's and master's degree from Hampshire College in Amherst, MA and Teachers College-Columbia University in New York City, respectively. She is a proud product of Atlanta Public Schools. 
Williams' research examines three major areas: 1) higher education finance with an emphasis on social class inequalities and their impact on higher education access and completion; (2) workplace retention and human resource concerns anchored in an analysis of structural inequities and (in)effective supervisory leadership; and (3) campus and community public health policy, outcomes, inequities, with a specific focus on HIV/AIDS in college contexts. She broaches these areas of inquiry using critical, identity-conscious approached, and most commonly explores their impacts on first-generation college students, Black women, and low-income students. Williams further examines her work across the PK-20+ educational spectrums in an effort to disrupt the current divide between secondary and post-secondary scholarship. 
Her dissertation study, "I Did Everything I Was Supposed to:' Black Women Administrative Professionals' Push Out and Opt Out of Higher Education" was honored as the 2019 Southern Association for College Student Affairs (SACSA) Dissertation of the Year and the 2020 First Place Dissertation of the Year Award from the American Association for Blacks in Higher Education (AABHE). To honor and leverage the knowledge she gained from the dissertation writing process, Williams is currently serving as a Guest Editor for the highly coveted New Directions in Student Services series where she's curating a Special Issue entitled, Supervision in Student Affairs: Approaches and Tensions in Today's Workplaces. Additional research form this study have been supported by funding from the American Association for University Women's (AAUW) American Fellowship. 
Williams' most recent co-authored published works include: (1) How Social Class Identity influences Students' Leadership and Advocacy Development in New Directions for Student Leadership; (2) Exploring Black Girl Magic: Identity Development of Black First-Gen College Women in the Journal of Diversity in Higher Education; and (3) What Do We Know About Campus Sexual Violence? A Content Analysis of 10 Years of Research in the Review of Higher Education.
An avid community builder and believer in translating theory to practice, Williams recently served as an inaugural Writer-in-Residence with Teach for America and she is a co-founder of two digital counter-communities for Black women within and beyond college and university environments: #CiteASista and #SisterPhD. Williams' scholarship, as well as her personal and professional advocacy, have been featured in and by the White House Initiative on HBCUs, U.S. Department of Health and Human Services, National Public Radio (NPR), the National Black Women's Health Imperative (BWHI), One Day Studio (ODS), the National Minority Aids Council (NMAC) and in a host of academic journals. 
You can often find her tweeting away on her favorite social media site via @DrBritWilliams on Twitter.
2021 MNACPA Conference Planning Committee
Laura Buchwald, Conference Co-Chair
Lindsay Gilbertson, Conference Co-Chair
Miguel Ovies-Bocanegra, Past President
Lindsay Borkin, Committee Member
Emily Long, Committee Member
Katy Peper, Committee Member
Mai Xiong, Committee Member